RDH Group Features on George to the Rescue on NBC
Episode synopsis:
"A mere five months after Debbie and John were married, a massive stroke left John paralyzed on his right side and with limited speech. Awarded the presidential service award in 2000 for his volunteer work, John now loves to sit in their backyard in Seaside Heights, NJ, but is usually alone. George constructs a new front porch and outdoor oasis, so John can spend more time with his friends and family."
Ask us about your project
Contact Us to find out how we can help make your project a success.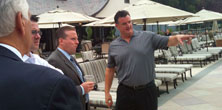 Bring your dreams to life.
RDH Design Group is committed to helping you turn your outdoor space into the space you've always dreamed of. We'll be there every step of the way from concept through planning, execution and maintenance.
As a full service landscape architecture design firm, we handle all aspects of a project from analyzing space to creating zoning plans, obtaining permits, managing budget and ultimately creating a space that makes dreams a reality. Our expertise includes:
Residential
Commercial
Country Clubs
Institutional
Pools